View our
Parish Profile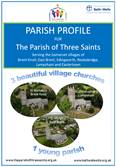 Interregnum
Following the departure of Reverend Simon Lewis we are now in a period of Interregnum.
(click here to see a tribute to Simon)
An interregnum is the period between a priest leaving a parish and another one being appointed.
During this period if you wish to book a wedding, baptism, funeral etc, please contact Mrs Carole Carter, our Parish Administrator who will make all the arrangements. Office telephone number 01278 769082
Worship during the Interregnum
During this time we have to find cover for Worship from local retired clergy.
Currently we have cover for all our regular 8am Holy Communion Worship and 10am Parish Eucharist on Sundays until January 2019, although some 8am Worship will be 'Service of the Word', which means there will be no Communion. If, for unforeseen circumstances, it is not possible to hold Worship a notice will be placed on the church door. The monthly 6.30pm evensong at St Michael's, Brent Knoll and the Wednesday morning mid-week Worship at St Christopher's, Lympsham will continue as usual. Unfortunately, the Tuesday 2.30pm mid week Worship at St Mary's East Brent will not take place.
PLEASE CHECK ON THE CALENDAR FOR FULL DETAILS OF ALL WORSHIP TIMES (Click here)
Parish Life
You can view some general pictures of Parish life on this home page. For a pictorial diary please visit the Photos section of the website (direct link here)
THE LISTENING PROJECT
The idea behind the Listening Project is to develop a listening culture and to deepen our relationships with God and each other. The PCC annual report celebrates that, as a Church family, we are constantly seeking to be a Healthy Church and to 'be Church' better. This means we take our relationship with God seriously as we seek to be God's presence in our neighbourhood to the best of our ability. Please click on link to learn more
Information Management (GDPR)
Please explore our website